Have you ever seen a home with a red porch light and wondered why? It turns out, there are several meanings behind the red porch light. It can be used to show support for firefighters, advertise real estate, or even indicate that someone is selling goods or services.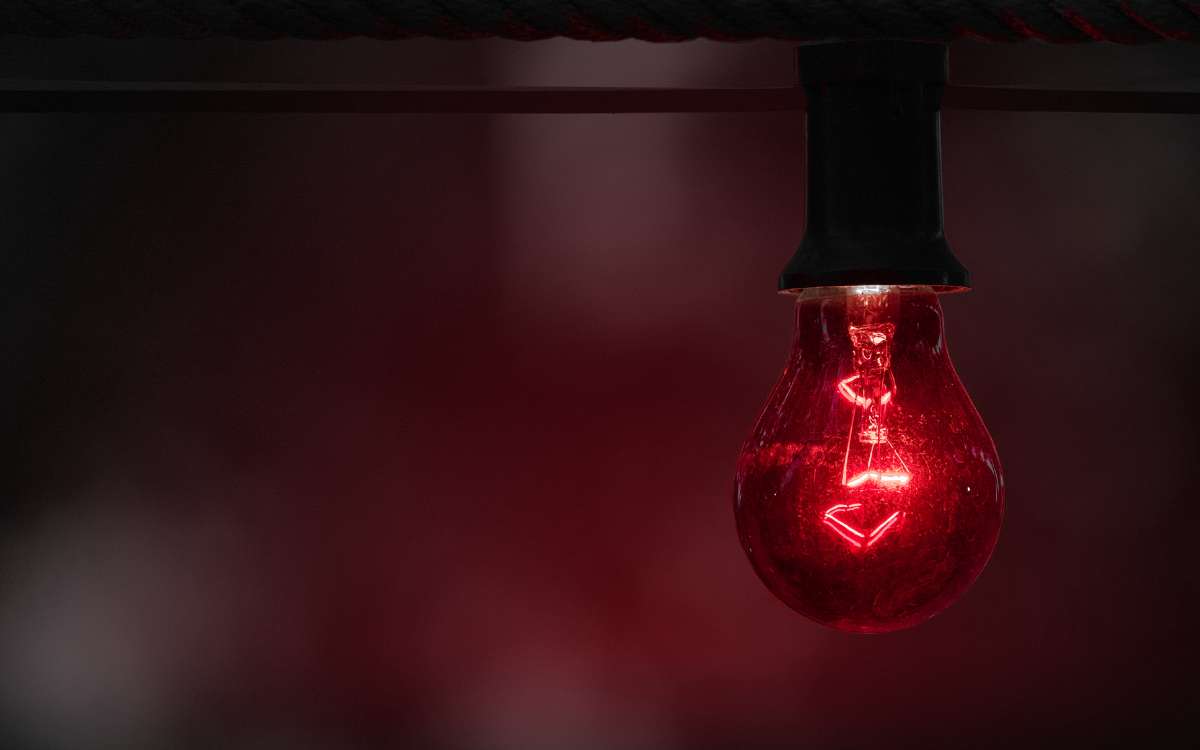 Keep reading to learn more about the different reasons people may choose to install red porch lights.
6 Common Meanings for Red Porch Lights
1. Firefighter Appreciation
On May 4th, on national firefighter day, as a thank you for all of the work they do, many people choose to turn their porch light red in honor of firefighters.
This simple gesture is symbolic of the respect and appreciation people have for these brave individuals who risk their lives every day to help keep us safe.
This commemorative moment was curated by the National Fallen Firefighters Foundation, and participants are encouraged to engage their neighbors as well as use social media to spread the word.
The color red was chosen because it is often associated with fire departments and emergency services around the world, so it was an easy way to show respect and appreciation for those who serve in these roles.
Nowadays, many homeowners will leave their porch lights on year-round as a way of showing support and appreciation for their local fire departments.
The "Shine Your Light" campaign was triggered by a devastating tragedy in Victoria, Australia, which resulted in the death of five brave firefighters fighting wildfires.
International Firefighters' Day is a special day dedicated to recognizing the immense bravery and dedication of firefighters around the world, who unselfishly risk their lives in order to protect ours.
Let us use this occasion as an opportunity to show our appreciation for these selfless heroes!
2. American Heart Health Awareness
Landmarks across the globe turn their bulbs red in February in honor of heart wellness awareness month as suggested by the American Heart Association.
During this month, the organization also encourages people to use their porch lights as a way of showing their support for heart health and to raise awareness.
During this time, the organization recommends that everyone focus on their personal cardiovascular health by taking quizzes, spreading the message, and visiting their healthcare professional for a routine check-up.
3. Holiday Lights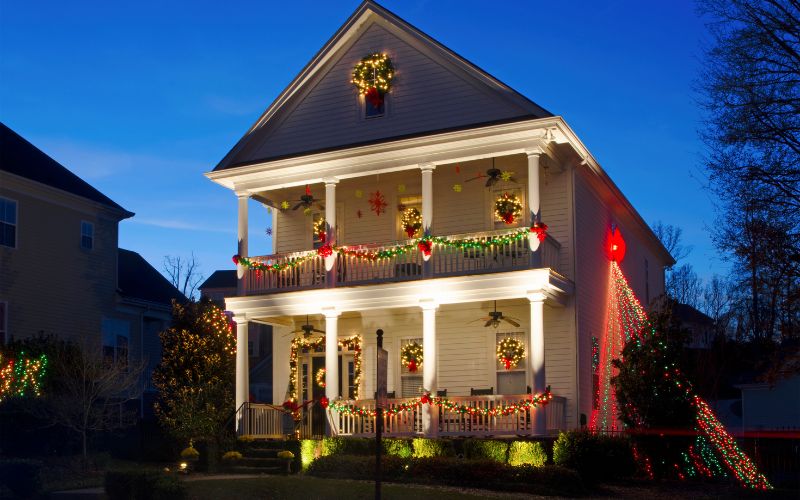 There are a handful of holidays that are associated with red lights. First and foremost, Valentine's day is known for its red lights.
Since this holiday isn't as popular for decorating as others, simply replacing a lightbulb is a great way to show support.
Christmas is another holiday that often uses red to decorate the house and trees. This can be done in a variety of ways, from string lights around windows to wreaths decorated with red ribbons.
Finally, red light creates an intense mood alongside Halloween decorations and is a popular color choice for this spooky holiday.
4. Insect Deterrent/Prevention
Bugs are helplessly attracted to bright white and blue lighting. I'm sure you've seen dozens of moths, beetles, and other creepy crawlies buzzing eagerly around your house's porch lights.
This is why many people opt for a red bulb as an insect deterrent. The soft, inviting glow of red light is not as attractive to insects, so this can be a great way to reduce bug activity near the home.
This way, when the door is opened, there won't be an influx of bugs entering the house, and you can enjoy a peaceful evening without the pesky distractions.
5. Preventing Criminal Activity
Another reason many people choose to install a red porch light is that it can be used as an effective deterrent against criminal activity.
Criminals are less likely to target homes with red lights, as the traditional blue and white bulbs create too much visibility.
The reason why this prevents criminal activity is more psychological than anything else, as the color red has an intensity that may provoke unease in an unwelcome visitor.
However, there is current data suggesting that this is an effective method of crime prevention.
6. Dark Sky Ordinances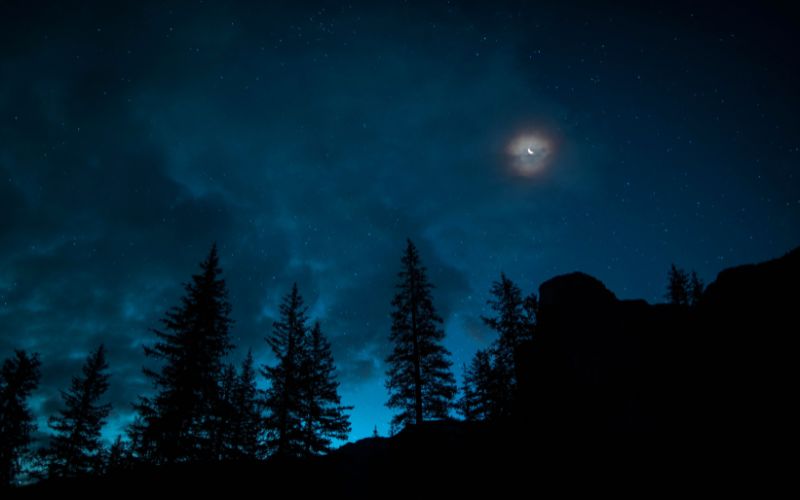 Dark sky ordinances are regulations that have been put in place to maintain the beauty of a night sky by limiting light pollution.
While some cities and towns don't need these rules, many areas are adopting them as they realize how important it is to preserve our night skies.
In order to comply with dark sky ordinances, people must use approved lighting structures that face the light downwards, as well as adhere to other requirements.
Recently, there has been a strong push against blue light, which can be bad for vision, endanger nearby wildlife, and make it difficult to see the night sky.
The international dark-sky association recommends warm lights, but many night-sky devotees use red lights in order to minimize glare and preserve the beauty of their night sky.
Additional Porch Light Color Meanings
1. Orange Porch Light Meaning
Perceived as invigorating, yet cheerful and inviting, orange emits a warm glow that radiates comfort and joy at home. It also helps to repel bugs and increase visibility in the neighborhood as well as the night sky.
It has the warmth of red porch lights without being overly intense, making it ideal for those looking to make a statement without being too loud.
2. Green Porch Light Meaning
Every year in the US, Veterans Day is celebrated on the 11th of November. During that day, you may notice your neighbors' porches lit up with green light – some even leave them shining throughout all of November to honor these brave individuals.
In the month of March, people cite St. Patrick's Day with festivities by adorning their porches with verdant lighting. This festive color radiates an air of celebration and joy that can be seen from a mile away.
In May, green porch lights turn on to signify Lyme Disease Awareness globally. This hue serves as an enduring reminder that this disease has no known cure.
The Green Lights campaign is working hard to raise awareness of this devastating illness, reaching people all over the world.
In May, both the United States and the United Kingdom switched on their green porch lights to show support for Lyme Disease Awareness, with other countries following suit.
3. Blue Porch Light Meaning
One of the main meanings of blue porch lights is to promote autism awareness. You may see your neighbors using a blue light throughout the whole month of April, especially if they have a family member or friend with autism.
Blue lights are also used to show solidarity with law enforcement and raise awareness of the efforts that the police force makes every day. The color blue is commonly associated with law enforcement and is a sign of support for the police.
Project Blue Light began in 1988 and is meant to honor officers who passed away in the line of duty.
4. Yellow Porch Light Meaning
Yellow is the color of optimism and positivity and has been used by many cultures to signify happiness, health, and safety. This light is great for creating a cozy atmosphere that will help you relax after a long day.
It also has been known to draw attention and make your home more visible to passersby. This is great for safety reasons, as well as for making sure that emergency services can easily reach your home in case of an emergency.
5. Purple Porch Lights
Since 2007, purple porch lights have become a widely recognized symbol of awareness to combat domestic violence. These distinctive hues serve as an effective tool in raising consciousness and rallying support against this pervasive issue.
Initiated in Washington by the Domestic Taskforce for domestic violence awareness, a campaign called Purple Nights propelled these lights into fame.
In a sign of solidarity and support for victims of abuse, individuals have been turning their porch lights purple all night long as an expression of hope.
Every October, people show support for domestic violence victims and survivors by illuminating purple lights on their porches.
These symbolic symbols of solidarity serve as a reminder that we can all make a difference in the fight to end domestic violence.
5. Blinking Porch Light Meaning
In an emergency situation, porch lights blink as a signal for help. If you notice your neighbor's light flickering in this manner, it is important to check on them immediately and see if they are okay or in need of assistance.
A flashing porch light can help emergency personnel quickly and easily locate a residence during an emergency situation. This is especially true for ambulances, firefighters, and other rescue teams who rely on flashing lights to indicate the severity of the problem at hand.
Blinking porch lights are often used in conjunction with other beacons so that no time is wasted retrieving those in need.
The Bottom Line: What Does a Red Porch Light Mean?
Porch light colors are a reflection of both personal and communal expression, with each hue symbolizing something different.
The red porch light is most commonly a sign of respect and reverence for firefighters and other first responders who risk their lives daily in service to others.
Red porch lights serve as a reminder of the sacrifices they make and can help bring comfort to those who have lost a loved one in the line of duty. However, it can reflect their meanings as well.
Additionally, individuals may choose to display blue porch lights for autism awareness, yellow porch lights for safety and visibility, purple porch lights in support of domestic violence victims, or blinking porch lights in an emergency situation.
Regardless of the hue chosen, your porch light is typically a sign of hope and goodwill. So if you choose to display a porch light in your home, whatever color it may be, remember that its purpose is to bring people together and help make the world a brighter place.