I know what you're thinking: 'aren't all fire trucks the same?' Well, traditionally, firefighting vehicles seem to fit a particular look – bright red, very large with flashing lights.
But, that's not all they can look like. There are quite a few out there that broke the classic fire truck mold. 
Basically, as long as a vehicle is equipped with the necessary tools to tackle a fire, it can earn the status of 'fire truck'
The evolution of the fire truck is actually super interesting. Did you know that until 1911 we got by with horse-drawn fire apparatus?
Living in the 21st Century, with all the high tech, high speed vehicles and equipment that we use to fight fires it seems crazy that the world relied upon a few horses to tackle emergencies!
Fortunately, we now benefit from a myriad of emergency vehicles to deal with almost any emergency situation.
While the most common fire truck design is a big red fire fighting machine, sometimes that doesn't work in certain situations.
For example, it would be pretty hard to navigate one of those through narrow mountain roads. So, over the years there have been a number of altered fire trucks designed to work in different situations.
Fire trucks are different in different countries too. Lots of fire trucks can be extremely expensive to own and operate which some countries are unable to afford.
This article is  a roundup of the best fire trucks in the world, keep reading to find out what these whack trucks look like!
Best Fire Trucks In The World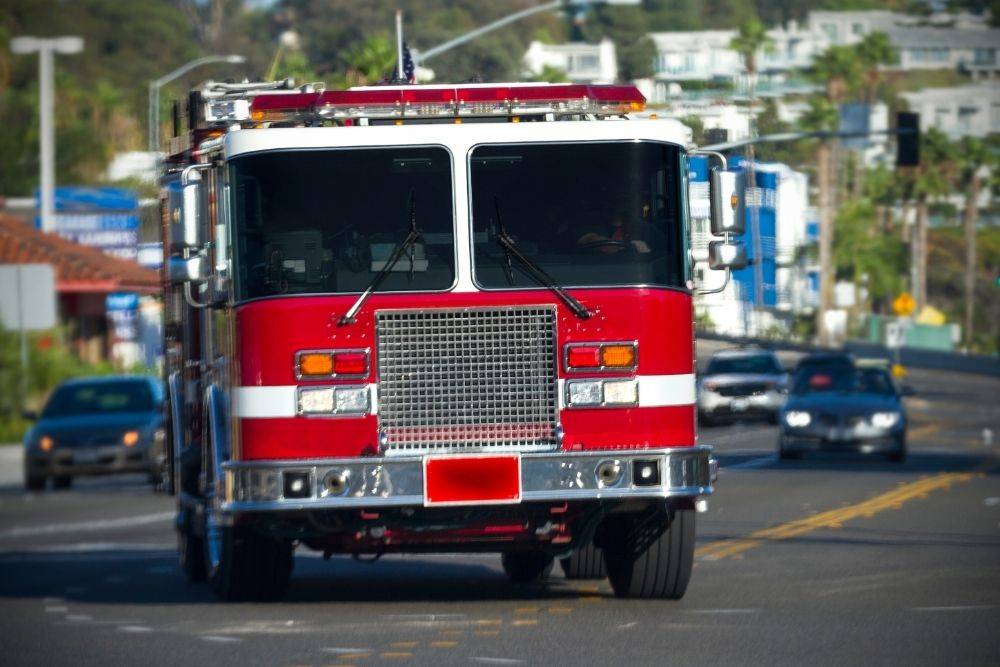 1. Falcon 8×8
The Falcon 8×8 is reportedly the biggest fire truck in the world right now. The 54 tonne machine consists of predominantly fiberglass and was created by NAFFCO (National Fire Fighting Manufacturing FZCO) in Dubai.
First introduced at the Dubai Intersec, a world-famous security, safety and fire exhibition, in January (2021), the actual purpose of this bulky truck is to tackle airport fires.
The modern fire truck is considered state of the art and delivers a fresh take on the traditional color and design of classic fire engines. Instead, designers went for a sleek black look with few pops of yellow.
2. Kiri the Daihatsu HiJet
Kiri the Daihatsu HiJet fire truck is one of the smallest fire trucks of all time! It recently made an appearance in the US after travelling over from Japan.
The 19090Daihatsu HiJet originated from a small mountain town called Kirigamine in the Nagano Prefecture of Japan.
The tiny truck was designed by Tohatsu and this particular machine was based in a volunteer fire department in Kirigamine, awarding it the super cute name Kiri.
3. Colet K-15 Jaguar Crash Truck, Atlanta Fire Rescue 
The Colet K-15 Jaguar Crash fire truck is actually owned by Atlanta Airport and was purchased by them back in 1990 in order to tackle airport fires.
The truck itself was created by Jaguar so as fire trucks go it's a pretty sleek and stylish design.
It was specially designed to provide an ultra high speed response to the job and could actually get up to speeds of 83 miles per hour!
All in all a super cool, super fast fire truck that definitely earned its spot in this list.
4. Phantom II Rolls-Royce Fire truck
Yes, that's right, a Rolls-Royce fire truck! Rolls-Royce is one of the most luxurious and desired car brands ever, and this fire truck that they designed certainly lives up to the same standards.
Normally, when you think stylish, you don't think of a fire truck, but this Rolls-Royce fire truck goes against tradition.
Intriguingly named Phantom II, this fire truck is not only sleek and stylish, it's also very good at dealing with fire – handy, right? This super cool fire truck was first introduced around 1930 but is still loved for its exceptional beauty today.
5. Chinese Jet Truck
This Jet Truck is a super powerful Fire Truck of Chinese design. It's basically a fire fighting version of a fighter jet – cool, right?
Complete with an impressive jet nozzle, it can shoot water directly onto the target with immense force.
In fact, it is said to be able to shoot up to four tons of water at a distance of 120 meters every four minutes!
6. Vintage Ahrens Fox Truck
The Vintage Ahrens Fox Truck looks more like a can than a truck, but that was the purpose of its design. 
As the name suggests, this fire truck was created by the Ahrens Fox Company, an Ohio-based fire truck manufacturer. The company was actually the first manufacturer to build a motorized fire engine in 1910!
The Ahrens Fox trucks were highly recognizable, especially because of their chromed sphere situated above the pump. Its purpose was relatively mundane, but it looked very stylish and distinct.
Unlike traditional fire trucks, the driver isn't positioned at the front of the truck, rather its design placed all the equipment at the top end of the truck and the driver's seat as far back as the middle of the vehicle.
As you can imagine, this design didn't work so well. Still, it looks very cool, so I had to include it in this list.
7. Soviet AA-60 Tank Truck
This fire truck was an artillery tank with a very distinguishable enormous nozzle atop it. Designed with a V12 engine capable of 525 horsepower, this fire truck was super speedy and incredibly efficient.
This model checks all the boxes of a classic fire dumper and certainly checks all the boxes in terms of what is required of a fire truck.
As a result, this is one of the more expensive fire trucks in the world, but it's completely worth it for its amazing design and reliable qualities.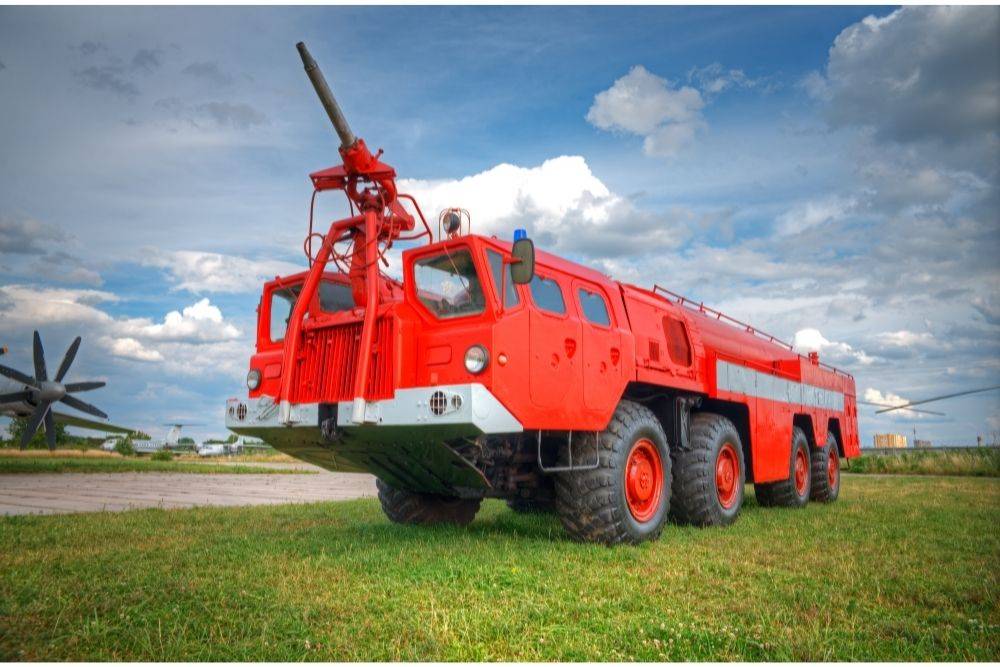 8. Metro-North Mini-Emergency Vehicles
The Metro-North mini emergency vehicle was introduced around 20 years ago when Grand Central Station would see a lot more fires.
The Station got its own fire department, albeit almost hilariously small! These electric carts were designed to deal with medical as well as fire-related incidents.
Despite their tiny size, they could still hold 200 gallons of water as well as medical aid supplies.
9. Antarctic Fire truck
Antarctica is known for its modern fire department and is regarded as one of the best in the world today.
But, back in 1974, they had this fire truck, which looks like a monster truck and a fire truck all molded into one impressive but unconventional looking fire truck.
The huge tires made it safer to drive in the snowy and icy conditions and the huge water tank situated atop the back of the truck was very efficient in tackling fires quickly.
10. Big Wind
Big Wind is well known for being one of the most powerful fire trucks in the world! It is made from about 20 jet fighter engines and can carry up to 34 tanks of water at a time.
The water is ejected from six separate gigantic nozzles via the jet engines which creates an impressive blast of high powered steam which was able to put out even the most powerful oil fires.
Although this machine was introduced in 1991 it is still well known today and has developed alongside technology over the years.
It is a super expensive fire truck, so it isn't accessible to all countries, but it is certainly worth the money.
11. Russian Rocket Tank Trucks
The Russian Rocket Tanks fire trucks are basically a soviet tank but with fire eliminating rockets attached!
These machines are equipped with two huge jet engines that are no match for even the most aggressive of fires.
It's not what you expect when you think of a regular fire truck, but it does the job. It's basically the love child of an army tank and a traditional fire truck – what more could you want!
12. The Rosenbauer Concept Fire Truck (CFT) 
The Rosenbauer Concept fire truck (CFT) is reportedly the most expensive fire truck in the world right now.
The all-electric fire truck is estimated at an astonishing $1.1 million! 
It is still in its primary concept stages and as of yet no country is interested in purchasing the modern reinvention of a traditional fire truck.
It's incredibly impressive, though. In fact, the CFT has two electric motors that keep it powered for up to 30 minutes of driving and water pump operation.
If this fails, there is also a diesel generator as a backup system that is able to power the engine, pump system and other necessary equipment.
It benefits from a narrow body and tight turning radius, making it better suited to emergency situations that require lots of tight turns at high speeds. It also features an adjustable stance to keep it more stable when driving.
The CFT also has the ability to rise when being used for driving and lowered when in use at the scene of an emergency.
It can carry over 1,500 pounds of water or whatever materials are required. It is perfectly built for fighting fires in modern settings in both urban and rural contexts.
13. The Unimog
The Unimog is an incredible fire truck and has been used to tackle forest fires, violent hurricanes, storms, floods, hail and earthquakes!
With the number of natural disasters increasing worldwide, firefighters and emergency vehicles are facing greater challenges, so fire trucks like the Unimog are essential.
The Unimog is used specifically as a special operations and disaster control vehicle. There are very few emergency vehicles that can match the performance of the Unimog trucks.
They easily carry a firefighting team, tools, equipment and have the power to fight fires in the most extreme circumstances.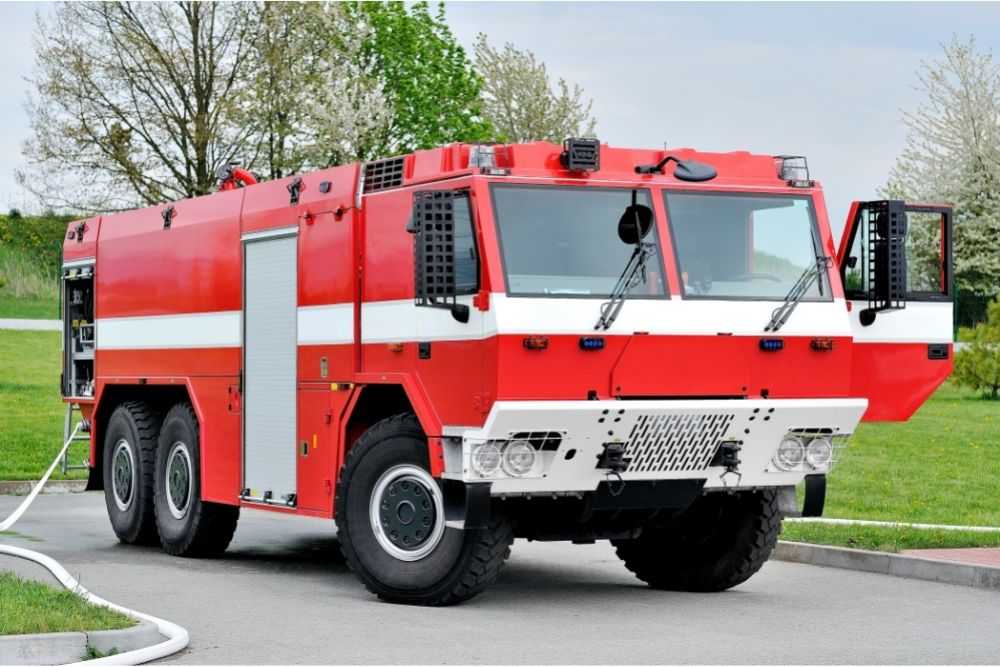 14. The TFFT "Tactical Fire Fighting Truck
The TFFT is a multi-functional standardized fire apparatus that is capable of being deployed in a huge range of capacities.
In terms of design it strongly resembles a crash truck that can carry 1,000 gallons of water and can pump 1,000 gallons per minute using a separate motor. It also has class A and B foam capabilities.
It also has two turrets that can deliver up to 500 gallons of water per minute.
It is fully equipped with a top mounted control panel, hose lines, ground ladders and more. Like the Unimog it can function off road and many other types of terrain including forestry and deep puddles of up to 48 inches deep.
It has a road speed of up to 62 miles per hour and a wheelbase of 210 inches. It can also carry a firefighting crew of six and is designed to be easily loaded onto aircraft transport to be deployed anywhere in the world!
15. Oshkosh Striker
The Oshkosh Striker is a specialized aircraft rescue and firefighting vehicle (ARFF). It was created by the Oshkosh Corporation in Wisconsin.
There are currently three models of the truck: the 1500, 3000 and 4500. This incredibly bright green machine has the ability to climb to a 60% grade and goes from 0 to 50 miles per hour in under 35 seconds!
All models have the option to add a snozzle capable of striking an aircraft fuselage to release fire retardant material within a cargo area.
16. Maserati Quattroporte fire Truck
Classic car fans will know about the Maserati Quattroporte as a luxury sport sedan but this vehicle was also converted into a fire truck. It was used as a first-aid vehicle at motorsports events.
Only five of the cars were converted in this way in Bolognaon for the CEA, a fire extinguisher company.
To adapt the car, the roof was cut behind the front doors and the rear doors were removed. Fixed metal sheets were fitted in the gaps and welded into the body shell.
In the rest of the car's body, there was a pickup flatbed with boxes filled with all the necessary equipment. Attached at the sides was a fire extinguisher sprayer. 
These vehicles were stationed on the racetracks in Bolognaon in the 1970s and 80s.
17. Ford Raptor Fire Truck
The Ford Raptor is a well known truck and is widely appreciated for its reliability as a truck. The San Diego Fire Department has some of these trucks as fire trucks to operate in rural areas at great speed.
18. The UPG-92
The UPG-92 fire truck is a super cool looking fire truck, although it looks nothing like a traditional firefighting vehicle.
This fire truck is basically a big white tank equipped with five roof- mounted shooting cannons that sprayed fire retardant powder at blazing fires.
The cannons could tackle gaseous, electrical and liquid related fires with this impressive fire-stopping powder from up to 40 meters away!
The vehicle can also reach a top speed of 40 miles per hour which is super impressive for a tank.
19. Pozhtechnika MRU GVT-150
This fire fighting vehicle manufactured by Pozhtechnika is an aerosol fire truck, meaning the fire is tackled using an adjustable gas turbine that is blown into the center of the blaze.
It has the capability to extinguish fire and suppress toxic fumes and smoke. It also has a self protection system that sprinkles water over itself to protect the crew.
With a top speed of 1.9 miles per hour and a weight of 19 tons, it isn't the speediest or most maneuverable firefighting vehicle, but it still looks super cool and is no match for a toxic blaze.
It can spray up to 40 gallons of water per second and can even be remotely controlled from up to 1,000 feet away!
20. Tatra 815-7
The Tatra 815-7 is most commonly used as an army truck and is appreciated for its exceptional features such as a top speed of 115 kilometers per hour, large fuel tank capacity and a max horsepower of 402.
The vehicle is also used as a fire truck. It has six-wheel drive and a 2,300 gallon water tank! It also has the ability to expel 144 gallons of foam at intense speed.
This 'fire tank' is an absolute beast of a fire fighting machine, one of my favorites in this list for sure!
What's the difference between a fire truck and a fire engine?
A fire truck is equipped with large ladders that extend from the truck but remain attached to the truck.
They also have a hydraulically operated ladder and specialized equipment for other incidents such as ventilation and forcible entry.
A fire engine is equipped with a carry hose to pump water, smaller ladders that require being carried and moved by the firefighters, and a large water tank.
Read more about the difference between a fire truck and a fire engine here.
Final Say
It's clear that the traditional big red flashy fire truck that we all know and love isn't the only machine capable of fighting fires with immense power, speed and efficiency.
Fire trucks come in all shapes, sizes and colors and can still be super fire fighting machines.
It's so interesting to see how fire trucks differ in different countries and contexts, which one did you think was the most impressive?
Leave a comment below. I'd love to hear from you!