There's something magical about a roaring fire during the cold winter months – especially when the weather is particularly ferocious.
Not only can a well-made fire keep you warm, but it can also bring a certain ambience to your household, with the light and flickering flames creating a delightful and cozy atmosphere. 
In our current world, traditional fireplaces seem to be a thing of the past, with many modern households being fitted with fireplace sets that use gas or electricity to maintain the initial flame.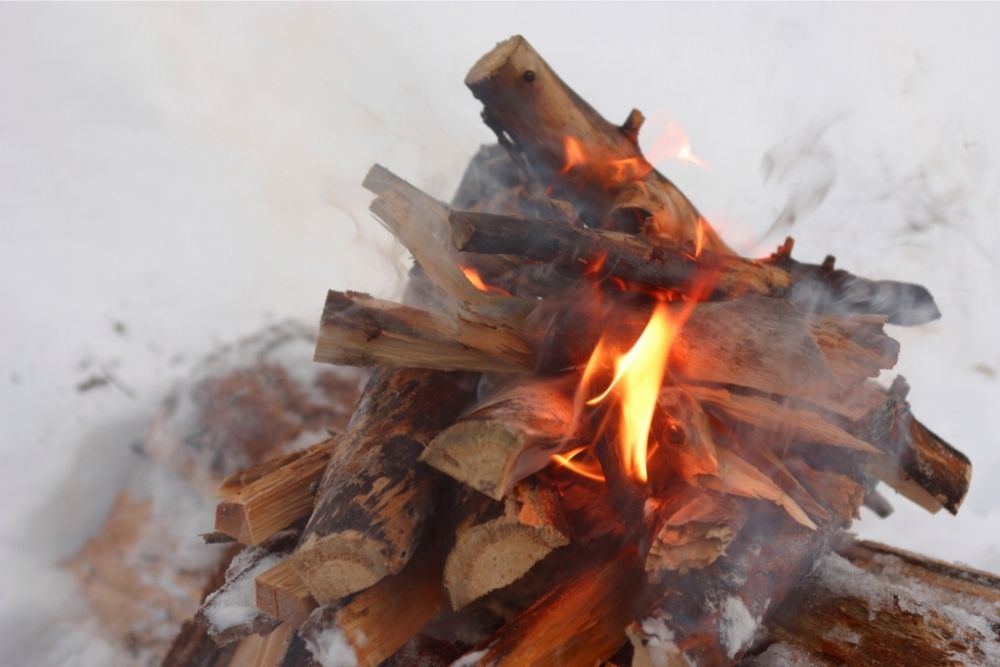 But when it comes to producing a truly spectacular fire for the winter, using a wood-burning fireplace is the only true method. 
Not only do wood-burning fireplaces provide a rustic charm, but they can also fill any room with a distinctive atmosphere. There's just something magical about the sound of crackling firewood and the aroma of burning bark filling the air.
So if you own a wood-burning fireplace, or have a fire pit in your garden, then you should really consider utilizing them this coming winter. 
And if you do decide to do this, then you need to make sure that you have the right materials and firewood for the job. Firewood comes in all shapes and sizes, with certain varieties of wood burning brighter than others.
So if finding the best firewood is proving a difficult task, then we have exactly what you need. 
Down below we have compiled a selection of the best firewood currently available for online purchase. We have also put together an informative buyer's guide, to aid you in your search for the best wood to wood burn.
So why not check our choices out, and see if they meet your wood-burning needs. 
Best Wood To Wood Burn 2022
If you own a wood-burning fireplace and are interested in using it for the first time, then you will need to purchase a variety of wood that is easy to work with and capable of producing a powerful and lasting blaze.
That is why Zorestar apple firewood logs have ranked at the very top of our list. Applewood is considered a very good wood for burning, as it burns slowly while releasing a decent amount of heat.
The wood is also distinguished by its delicious aroma, which will fill the room when burned. 
Zorestar firewood logs measure 10-inches in length and are an extremely versatile product that can be used as kindling for fireplaces, fire pits, wood-burning stoves, barbecues and camping grounds.
A fully packaged box of Zorestar firewood weighs 15lbs and comes with the addition of a bag of smoking chips. The wood has been well-seasoned and promises to produce a long-lasting fire that can be enjoyed by everyone. 
Pros:
Natural Product:

Zorestar apple firewood logs are a completely natural product, with the wood being organic and free from harmful chemicals. 

Versatile Performance:

The firewood is extremely versatile and can be used to fuel fireplaces, fire pits, wood-burning stoves, barbecues and campfires. 

Long-Lasting Kindling:

Applewood burns at a slow rate and produces long-lasting and powerful fires. 

Fruity And Delicious:

The seasoned applewood will release a fruity aroma when it is being burned. 
Cons: 
Small Quantity:

Zorestar has been criticized for the quantity of firewood they produce, which may be considered too small for the amount of money you are expected to pay. 
Sale
Zorestar Apple Firewood 13-15 lbs - Natural Wood Chips, for Stove, Fire Pit - Split Seasoned Wood - Fireplace Campfire Indoor Outdoor - 1 Pack Fire Starters
COMPLETE BBQ BUNDLE: Enhance your BBQ experience with Zorestar's apple firewood and smoking chips pack. The box contains 13-15 lbs of firewood and a 1lb pack of apple smoking chips.
ALL-NATURAL AMBIENCE: Create an organic and chemical-free atmosphere with Zorestar's apple firewood logs. Perfect for BBQ, fire pit, fireplace, campfire, or wood stove use, both indoors and outdoors.
IDEAL FOR GRILLING: Zorestar's apple firewood logs and wood chips burn slowly, making them perfect for grilling poultry, beef, pork, seafood, and vegetables. Suitable for charcoal grills, pizza ovens, and solo stoves.
VERSATILE USAGE: Whether for indoor fireplaces or outdoor cooking, Zorestar's firewood logs are a great choice. Use them for fire pits, BBQ grills, campfires, indoor fireplaces, outdoor pizza ovens, or camping wood stoves.
BURNS IN ANY CONDITION: Zorestar's fire logs have high resin content, enabling them to burn even in wet outdoor fireplaces or BBQ pits. The ideal choice for any camping situation.
If you have had a fire pit installed in your garden, then you need to purchase a variety of firewood that can combat the various elements of the outside world, while still producing a comfortable blaze.
Solo Stove firewood is a natural wood that has been cut and produced specifically for fire pit usage, with the sustainable firewood being dried in a kiln for long-lasting performance. 
Juniper wood is not well-known for its practical uses, and yet the wood has become a particular favorite among wood-burning enthusiasts because of its medium heat and strong floral aromas.
The perfumes unleashed by juniper firewood are said to have medicinal properties and the smell can be widely enjoyed by friends and family alike.
Solo Stove firewood is also extremely compact and can be easily stored away in your house, garage or woodshed, with each box containing 10-14 pounds of pre-cut firewood. 
Pros:
Natural Firewood:

Solo Stove firewood is a natural product that has been sustainably sourced from the American Southwest. 

Kiln-Dried:

The firewood is dried inside a kiln before it is sent away for purchase, which ensures long-lasting performance. 

Scented Product:

Juniper wood is distinguished by its strong and aromatic smell, which will be released once the wood has been burned. 

Compact Size:

Solo Stove is pre-cut firewood that is extremely compact, which makes storing it away a simple task. 
Cons: 
Non-Versatile Firewood:

Solo Stove firewood is produced primarily for outdoor usage, which means it may not be suitable for fireplaces or wood-burning stoves. 
Solo Stove Juniper Firewood for Outdoor Wood Burning Fire Pits and Backyard Fire Pits 100% Natural Juniper Aromatic Firewood Kiln-Dried 6-8 Logs (.5 cu ft)
100% NATURALLY SCENTED: The smell of our naturally scented fire wood is the perfect fit for the perfect flame
AROMATIC FIREWOOD: This aromatic, naturally scented firewood is the perfect way to start your first fire in your new Solo Stove fire pit
KILN DRIED: Kiln dried, long burning, and sustainably sourced from the American Southwest, you'll experience the ease and enjoyment of an amazing low smoke and aromatic fire.
COMPACT: The lively sound of crackling wood takes your fire pit experience to the next level.
.5 CUBIT FEET or 6-8 LOGS: No need to split, each log is precut to fit inside any size Solo Stove fire pit. Just load it up, light, and enjoy.
Imagine this scenario, it's a cold winter's day and you want to light up a fire to combat the icy chill slowly invading your home.
You take a look around and realize that you have no kindling to hand, so what variety of firewood should you choose?
Well, if you are looking for a fast-working and versatile product that can be used in any environment, then you need to take a look at Timbertote natural firewood. 
Timbertote firewood is unique in that it doesn't showcase a single type of wood, with the product coming in bundles containing a variety of hardwood logs.
All the wood produced by Timbertote is completely natural and has been kiln-dried to ensure long-lasting performance. 
Because of the various hardwoods featured in the bundles, Timbertote can be used to create fast and dynamic fires for both indoor and outdoor purposes.
All Timbertote firewood comes in convenient shrink-wrap packaging and features a secure handle for easy transportation to gardens and camping grounds. 
Pros:
Versatile Product:

Timbertote firewood is not limited to a single function and can be used to build both indoor and outdoor fires. 

Diverse Bundles:

Unlike other firewood brands, Timbertote produces firewood bundles that contain various types of hardwood, which can be used to create dynamic fires. 

Kiln-Dried Firewood:

All Timbertote firewood is natural and has been kiln-dried to ensure long-lasting performance and heat. 

Convenient Packaging:

The firewood bundles come in shrink-wrap packaging with a secure handle, which makes them compact and transportable. 
Cons: 
Inconsistent Quantity:

The amount of firewood you receive can vary from bundle to bundle, with the typical quantity being around 6-8 pieces. If this is not enough firewood for your needs, then you will need to consider another product. 
TimberTote 0.75 Cubic Feet Natural Hardwood Mix Fire Log Wood Wintertime Firewood Bundle for Home Fireplaces, Campfires, & Backyard Firepits
NATURAL HARDWOOD: Firewood bundle of natural hardwood fuels fires that burn longer and cleaner, keeping you warm and cozy all winter long; no chemical additives
HARDWOOD MIX: Blend of various hardwoods is kiln-dried to ensure the wood burns evenly and cleanly, providing stable and dynamic flames for your enjoyment
FOR INDOOR AND OUTDOOR USE: Suitable for all types of fire, both indoors in your home fireplaces and outdoors in a fire pit, campfire ring, or open bonfire
CONVENIENT PACKAGING: 0.75 cubic foot firewood bundle comes packaged in shrink-wrap to keep everything neatly together and features a top-handle for easy transport
VARYING FIREWOOD SELECTION: The amount of wood in each individual pack will vary, but is typically between 6 and 8 pieces; 0.75 cubic feet of wood is enough for 1 to 2 fires
When it comes to building your own wood-burning fire from scratch, there is one key element that you always need to use – and that is kindling.
Kindling refers to any material, wood or otherwise, that can be easily ignited to start building a strong and powerful fire. So if you are staring at your fireplace and wondering what kindling is the best one to use, we have the perfect product for you to consider. 
Ecostix kindling firewood is produced using natural and fumigated Ocoee pine, a variety of fatwood that is rich in combustible substances.
This kindling is sustainably harvested by the Ecostix company, which sources the wood from leftover pine tree stumps.
The firewood contains an internal resin that makes it capable of igniting quickly and efficiently, it is also hand-chopped before being sent away for purchase. 
Ecostix packages their kindling in cardboard boxes, which are sold in a variety of different sizes. Currently, the lightest box you can purchase weighs around 10 pounds, while the heaviest weighs closer to 50.
The kindling is also extremely versatile and can be used for both indoor and outdoor fires. 
Pros:
Fumigated Firewood:

Ecostix kindling is a natural firewood product that is made from fumigated Ocoee pine. 

Natural Resins:

The fatwood is high in natural resins that are extremely flammable, which makes the wood easier to burn. 

Versatile Uses:

Ecostix firewood is a versatile kindling that can be used to build fires forth both indoor and outdoor purposes. 

Large Quantities:

The kindling can be purchased in boxes of various sizes, which means you are not limited to a certain amount. 
Cons:
Smoke Production:

Although this wood is marketed as an all-natural product, it has been known to produce black and foul-smelling smoke. 
EasyGoProducts Approx. 120 Eco-Stix Fatwood Fire Starter Kindling Firewood Sticks – 100% Organic – Firestarter for Wood Stoves, Fireplaces, Campfires, Bonfires, 10 Lbs
🪵🔥 Branded - Eco-Stix is the best resin rich Ocoee Pine all natural Fatwood kindling used for fire starting. Our fumigated Fatwood contains no petrochemical additives, no Methyl Bromide fumigation, it's a 100% pure, natural & sustainable fire starter.
🪵🔥 All natural - our fatwood is 100% All natural fire stick harvested from leftover stumps of pine trees. Internal resin allows it to light easily and is a great fire starter. We hand chop pine stumps downed or damaged trees into fire starter sticks. These sticks will quickly and easily start your fires.
🪵🔥 Variety of Boxes – Whether you are just looking for a few for camping or large quantities for wood stoves we have got you covered. We offer 10, 20, 25, 30, 40 and 50 pound boxes to fit all your needs. Many uses such as wood stove, fireplace, hearth, fire pit, camping, hiking, hunting etc.
🪵🔥 Directions - Put Eco Stix at bottom with 3 or more, crisscrossed or overlapped. Put your wood on top and light Eco Stix to start your fire quickly.
🪵🔥 5 STAR REVIEWS – "These fire sticks are perfect. We really only have to use 1 to get out fires going." – "I used to huddle over the fireplace for 20 minutes begging things to catch fire. Now I have the formula...2 fatwoods sticks" – "These starter sticks make starting a fire a cinch." – "I've used other firestarters for years. These are my new favorite." - "Great for use in a home fireplace or campfire." – "Make your life easy and buy these fire starters." – "Excellent sticks, very dry, and very easy to start a fire." –" I use these starter sticks to start fires in my wood burning stove." – "They will definitely light your fire. And they smell good." – "I love these things!"
If the cold winter weather is getting you down, then chances are you have considered lighting your wood-burning fireplace.
If this is the case, then you may also be concerned about the amount of work it will take to build a hot and crackling fire. That is why you need to invest in firewood that not only promises to deliver dynamic flames but also a long and lasting performance. 
As a company, Smoak firewood takes a unique approach to the production of its high-quality wood, with the company utilizing a distinctive method to ensure the firewood's longevity and performance.
All Smoak firewood is made using freshly harvested oak logs, which are then kiln-dried over a heat of 160 degrees for 40-48 hours. 
This drying process rids the wood of any moisture, allowing it to produce a powerful and clean blaze that is hotter and lasts longer.
The wood can be used for a variety of different purposes, from keeping your home warm in the winter to fueling your wood-burning stove. Each box of Smoak firewood weighs around 120-140lbs, with each piece of wood measuring 16-inches in length. 
Pros: 
Kiln-Dried:

Smoak firewood is kiln-dried for 40-48 hours over a heat of 160 degrees. This process removes any moisture from the wood making it burn for longer. 

Freshly Harvested:

All Smoak firewood products are made using freshly harvested logs, which are grown in the state of Georgia. 

Multi-Purpose Firewood:

The firewood can be used for multiple purposes, such as building a fire in your home or for fueling your wood-burning stove. 

Clean And Hot Burn:

Because the firewood has been expertly kiln-dried, it promises to produce a cleaner and hotter burn. 
Cons: 
Small Quantities:

Smoak firewood has been criticized for its small quantities of wood, which may not be worth the amount of money you are expected to pay. 
Smoak Firewood - Kiln Dried Premium Oak Firewood (Includes Firestarter) (Large (16inch Logs) 120-140lbs)
Kiln Dried Premium Oak Firewood (includes Firestarter)
Box size 24H x 18W x 18L (logs are 16inches long) 120-140lbs
USDA certified pest free product of the USA, logs are harvested fresh from Georgia and kiln dried to perfection which allows the wood to light easily, burn cleaner and hotter than other products!
Smoak Firewood's kiln dried firewood makes better fires that are frustration free. Great burning wood that shows up at your door.
Box is to heavy for most to lift. Upon delivery you could partially unpack until a liftable weight is reached.
Buyer's Guide
Before you purchase any firewood, there are certain elements that you as the buyer should consider first.
These elements will help to assure you that you are buying the best firewood for your requirements and that you are not wasting your money on unnecessary products. 
Down below we have compiled together some key factors that should always be kept in mind when purchasing firewood for your fireplace or fire pit.
By following the information outlined in this buyer's guide, we hope that you will be able to find the best firewood for your household, saving you time and effort. 
Type Of Wood
When it comes to purchasing firewood for your fireplace or stove, one of the most important things to consider is the type of wood you are buying.
Different types of wood have different burning capabilities, as well as other properties that can make them unique. Down below we have outlined the various woods you should be using as firewood, as well as the ones you should avoid. 
Hardwoods
Hardwoods are considered the best types of wood you can buy from building fires, as they are denser and drier wood.
Hardwoods contain low levels of sap and pitch, which means they are capable of burning for longer periods of time, while also producing clean and dynamic flames. 
The most common types of hardwoods you will most likely encounter are maple, oak, birch and most fruit trees (such as apple and cherry).
Hardwoods are also known to produce rich and delicious aromas, which can make burning them a particularly enjoyable experience. 
However, hardwoods are often harder to obtain and are typically more expensive than most common softwoods. They are also more prone to producing unwanted residues that could affect the fire and ash. 
Softwoods
Softwoods are the cheapest variety of firewood that you can buy, which means they are often easier to find and obtain. The most popular softwoods for building fires include fir, pine, balsam, spruce, cedar and poplar.
Although softwoods are often favored for their cheaper price, this does not mean that they don't come with some disadvantages. 
For example, softwoods do tend to burn quicker than hardwoods, which means you will need to buy a large amount if you want to keep your fire blazing for hours on end.
They can also be a messy wood to work with, as they produce various saps which can block up your chimney after long periods of use. 
Salvaged Woods
Although using salvaged woods can be a great way to save money, there are certain wood products that you should never use to build a fire – especially if that fire is in your home or garden.
Many salvaged wood products can be covered in varnish or chemicals, which could produce toxic and hazardous fumes when they are burned.
Not only can these fumes have a major impact on your personal health, but they can also damage the environment and sometimes cause death. 
Other salvaged woods you should always avoid are driftwood, pressure-treated lumber, plywood and hardboard.
If you are looking to purchase your firewood from an online retailer, then you will probably never encounter these particular woods. However, you must know which woods to avoid when first using your wood-burning fireplace. 
Frequently Asked Questions
How Should You Store Firewood?
Storing firewood can be a relatively simple and inexpensive task, all you have to do is make sure that it is stored away in an area that is dry and airy.
If you want to ensure that you are storing your wood to the best of your capabilities, then you should always stack your firewood in large piles, as this promotes positive air circulation.
You should also organize your firewood so that you burn the older wood first, as this helps to reduce the risk of mold or waste. 
Can You Burn Wet Wood? 
If your firewood is wet or even a little damp, then you should never use it to build a fire – especially in your fireplace. Wood that is insufficiently dry or even green is sometimes incapable of catching fire.
However, if you are able to ignite your wet firewood you will begin to notice how little heat it actually produces. Wet wood will more commonly produce vast amounts of smoke compared to heat, which can be uncomfortable and choking.
Is Burning Wood Bad For The Environment?
When you burn firewood it actually produces a greenhouse gas called CO2, which is considered a less potent greenhouse gas than others. Because CO2 is already a huge part of our atmosphere, its emission does very little in enhancing the greenhouse effect.
In fact, allowing a dead tree to rot away in the forest is more harmful to the environment than burning wood, this is because the rotten tree emits a gas called methane which has a great effect on the atmosphere.